Regular price
$0.00 USD
Sale price
$13.99 USD
Unit price
per
Sale
Sold out
Time to take care of your make-up brushes
Because they take care of you every day! Keep your brushes clean and fresh with our high-quality silicone make-up brush cleaning pad. Easy to hold and work with, this fantastic cleaning pad will keep all your brushes as good as new.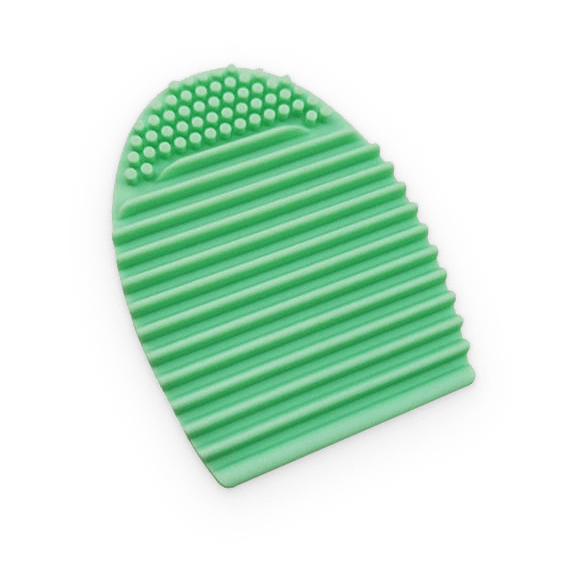 Brush Cleaning Pad details
Specifications
Material: high-quality silicon. Size: 2.6* 5.5* 7.3 cm. Color: green. Shape: egg-shaped.
100% safe
Made from high quality silicone, this pad is non-toxic. Safe to use and causes no damage to any type of brush.
Compact and lightweight
Easy to carry around and take with you while travelling, this great cleaning pad will keep all your brushes fresh even when you're on the go!
No more shedding
Leaving make-up on brushes and not cleaning them properly is one of the leading reasons for brush shedding and other malfunctions. Stop it now!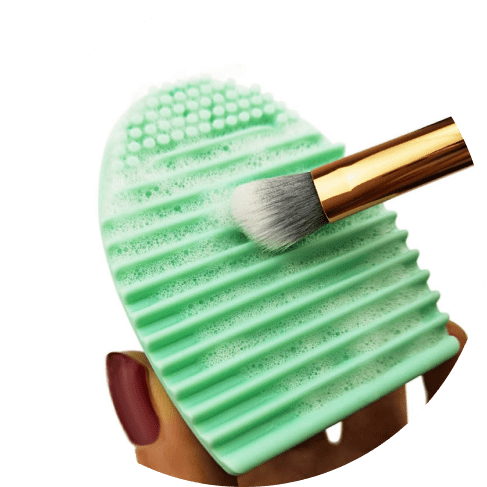 Pro-tips for best performance
Dry-clean your brush to remove excess powder by simply gently moving the brush on the surface. For deeper cleaning pour suitable cleaning solution on the pad, move the brush and then rinse in cold water. Air-dry in a well-ventilated area and you're good to go.
I had been hearing about brush cleaners like this for a while and never really looked into them. I thought "how different can this be than hand washing them?". Turns out, very different. These little things are a lifesaver!

There was nothing wrong with this product at all. It came in very nice packaging. They were very nice and clean. There was even an extra paper saying how to clean your brushes. I really liked this product!

Love these make up brush cleaners, only thing that was a downfall is they don't stay on your hand very well. Other than that they are great!

This is very easy to use. Put your fingers into the opening. You can apply as much pressure as you need. I like it because you can control how much of the bristles get wet. Too much water and you can break down the glue. Would definitely recommend it to anybody.

This is great! It's like a washboard for your makeup brushes. I just washed mine and they are almost like new again. I used to just wet them, soak them in a small cup with water and dish soap, and then I'd have to rub rub rub forever on a cloth or paper towel. This was so fast.

I saw these little brush cleaners and I bought them without even thinking about it, only to regret my purchase when I received the just shipped email - I came to find out they were not returnable and was really disappointed. However, when they got to me I ended up loving them! They are great quality, beautiful colors, and work SO well! I finally, finally got my make-up brushes clean from even the most stubborn primer and foundation that I could never get out before!

This brush scrubby is amazing. I debated on whether to get the large or small size, but I'm glad I got the large (3 finger) size. The extra surface area is nice for my large brushes, and I like the defined areas that this has (the lines and dots). It stays on my fingers nicely, and it is thick and feels like a great quality. I've seen similar products at Sephora for much more money, but these work amazing.

I love these little cleaning eggs! I coupled one with a brush shampoo. It cleaned out loads of products even after I thought they were clean. My brushes are now fresh and soft. I was able to really get my brushes clean without having to be overly rough with them. A solid purchase. I wanted this two pack so i could keep one in my suitcase for keeping my travel brushes clean during extended travel.
Shipping & Returns

Shipping is free WORLDWIDE on most items with 30 days return policy
Share
View full details
Free Shipping

We ship free to over 200 countries & regions.

Hassle-Free Exchanges

Hassle-Free Exchanges with out 30 day refund policy