Regular price
$0.00 USD
Sale price
$14.99 USD
Unit price
per
Sale
Sold out
A natural clean for the naturally adventurous
Your perfect travel companion
Perfect for traveling, camping, backpacking, hiking, or any event when life is on the go! Enjoy the generous, bubbly lather wherever life may take you. It's the perfect natural way to stay clean!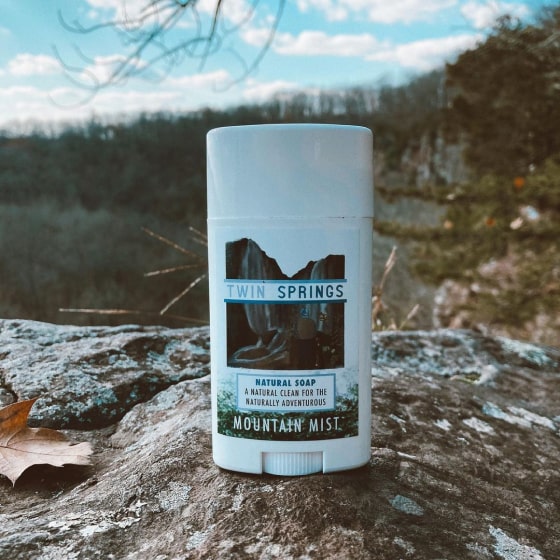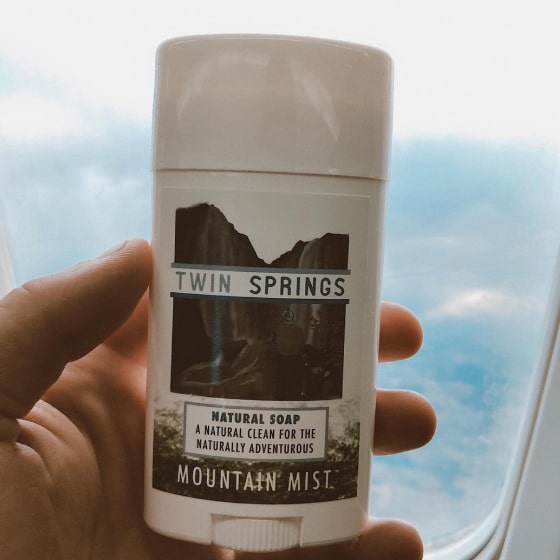 The natural soap specifications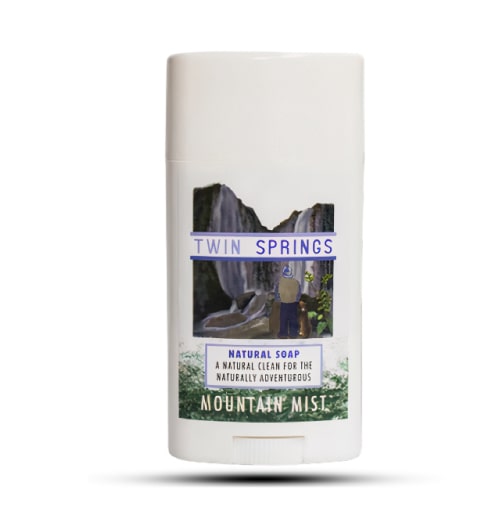 The Mountain Mist soap ingredients
This natural soap is made out of saponified oils of coconut and olive (with retained glycerine), citrus pine and peel fragrance oil, and spring water.
How to use the soap
Wherever it may be - a waterfall, lake, river, creek, beach, post-hike rest - simply twist up the soap stick to expose more surface area and apply! Use water for best application. If you let go of the travel soap stick - no worries, it will float conveniently right by your side.
Smell fresh, feel fresh, stay eco-friendly
Enjoy your next adventure with Twin Springs Mountain Mist Soap Stick! Handcrafted from scratch, Mountain Mist includes saponified oils of coconut and olive! The soap is crafted into the travel container using the cold process approach, preserving the beneficial properties of these organic oils making our soap gentle, soothing, and super soft!
About Twin Springs Co.
Twin Springs was created by Kurt Strittmatter with the idea in mind to make a more convenient clean outside the comfort of your home. "The idea came to me while daydreaming in class about my travels two months earlier throughout Central America and Europe. Instead of focusing on the vascular system lecture, something else caught my attention. I was caught up in what a beautiful world we live in and qestioned how can we humans keep it pristine and "Natural". After traveling to Central American countries with lack of running water and soap in each hostel I didn't feel as clean and comfortable as I should. I thought of all the liquid soaps that either exploded on the airplane or in my bag when hopping from place to place. I knew there had to be a much more suitable way to stay clean while traveling, without the mess and headache of liquid soaps. The idea of a bar of soap in some sort of container to make it less of a mess for people, a deodorant case to be exact, came to me in that boring lecture." And voila, the idea of Twin Springs was born.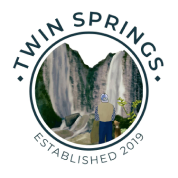 Designed In
Shrewsbury, NJ
This is my second stick after the citrus-pine one. The soap stick is a perfect tool to have on camping or hiking trips, since it doesn't stay wet after use and you can just put it back in your backpack.

This soap stick is good for travelling.

I really like taking this soap stick on camping trips with me, since it is really easy to use, doesn't slip out and can be used many many times, not like the usual soap bar, which is basically dead after one use.

I can recommend this soap to anyone who is the outdoorsy type. I got my first stick for a trip to Mexico's countryside and it's been with me ever since. It's easy to carry around and use, the stick is on the smaller side (like an average deodorant case), so it doesn't take up much space in my backpack. It doesn't get all slimy after one use and helps me keep my backpack clean. I LOVE the scent of freshness and cleanliness it has (kinda hard to describe - like a fresh crisp winter morning).

Nice soap, great idea with the case. It is easy to hold with wet hands, it doesn't fall out. Lasts forever (had it for a month now). I bought it for my business trip, which got cancelled due to COVID, so I used it at home. Have fun with this soap stick, it is much more convenient than a common soap bar or liquid soap.
Shipping & Returns

Shipping is free WORLDWIDE on most items with 30 days return policy
Share
View full details
Free Shipping

We ship free to over 200 countries & regions.

Hassle-Free Exchanges

Hassle-Free Exchanges with out 30 day refund policy