Regular price
$0.00 USD
Sale price
$34.99 USD
Unit price
per
Sale
Sold out
No more hurting
If you're suffering from joint pain or an unexpected sprain of the shoulder, expedite your road to recovery with our Orthopedic Left/Right Shoulder Support Brace. It's perfect for men and women alike, with a unisex design you can wear over or under your clothes for everyday relief.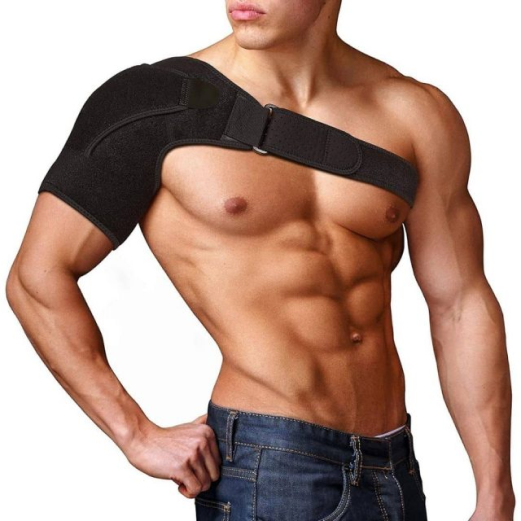 Your protector is here
Designed for optimal healing, our shoulder brace limits the range of motion in your shoulder with compression that helps reduce rotator cuff injuries or dislocation of the shoulder. When worn during sports or exercise, our brace can help to prevent over-rotation or further aggravation.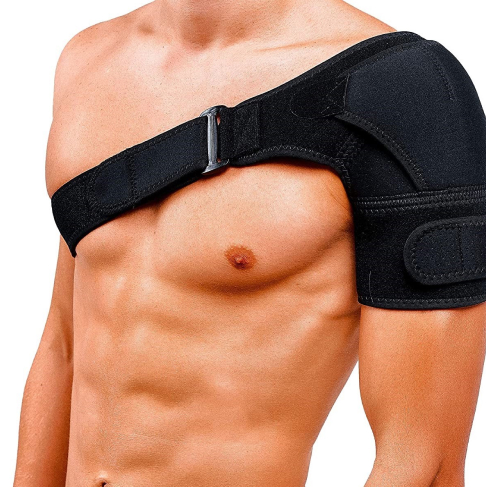 Ready to get back to normal?
Here's how our brace makes that happen
Compression of the shoulder joint reduces inflammation for quicker healing
Elevation of the shoulder with the brace on improves blood flow
Gradual correction of your posture can eliminate poor habits that can worsen pain or injury
Space for hot or cold packs allow you to incorporate heat or ice for extended relief
Say goodbye to all your pain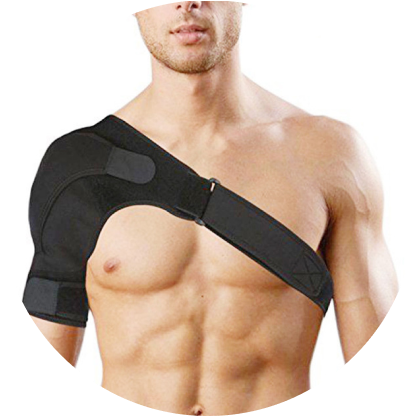 Designed for convenience and comfort
Constructed with quality neoprene, this shoulder brace is light, breathable, and comfy while maintaining flexibility whether hot or cold. It can be fully adjusted to vary the amount of tension required to suit the user. It fits both shoulders and allows dual-adjustment of both the upper arm and main strap. The brace also includes compartmental space for cold or hot packs to boost relief. There's no need to buy two shoulder braces -- our Orthopedic Left/Right Shoulder Support Brace has got you covered.
Instructions for Wearing Your Shoulder Support Brace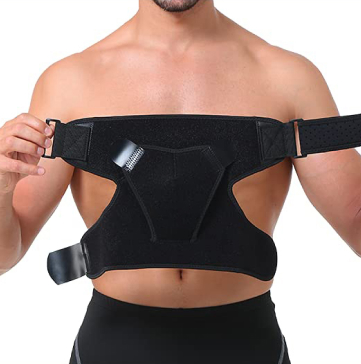 Step 1
Place the detachable band on the side of the brace that goes on your back.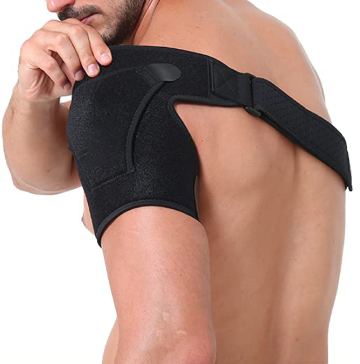 Step 2
Connect the strap to the buckle, put the brace on your left or right shoulder.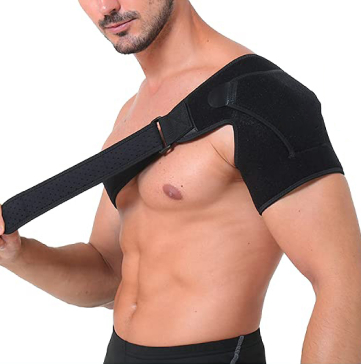 Step 3
Pull the long strap under the other arm and pull out. Make sure that it is in a comfortable and desirable position.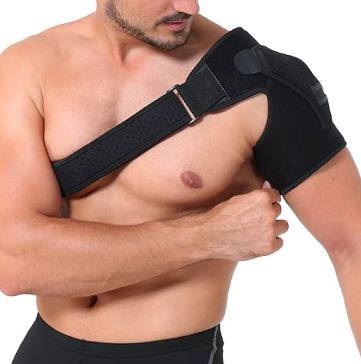 Step 4
Readjust bicep straps and a pressure pad to a tight, comfortable fit.
It helped my shoulder a little but it doesn't make me look like the guy in the picture.

With fibro my shoulders and shoulder blade areas get very painful, I wore this shoulder support while I planted some garlic bulbs and I never got any pain in shoulder areas at all. I was amazed because every arm activity flares pain in shoulders. Wish I would have had leg and butt supports to prevent the extremely painful leg and butt muscles I had for 3 days from planting that garlic, lol.

I have bursitis in my right shoulder and experience pain whenever i go golfing. It's coming time where I'm going to start playing again, physiotherapy never really help. I've seen a lot better results from this brace in a short amount of time.

I've hurt my shoulder at work and I was in pain for months. I saw this and gave it a try. It works wonderfully. Very high quality and made out of good durable material. It is very easy and and simple to use as well. I've been using it for almost a month now and it maintains its shape. It's breathable material is so comfy and it stays very secure.

Took me a minute to figure out how to put this on but once I did, I really like the support I get. I sleep on my arm/shoulder and sometimes that causes my shoulder to hyperextend. This brace provides support and a comfortable feeling throughout the day. A bit tricky to adjust though

This shoulder brace makes my workout feel totally different & now I'm way more comfortable than before.

Quality fabric and stitching. Comfortable design and love all the adjustable points that allow you to find your perfect fit. Most important- my shoulder feels supported and that keeps it from tiring out too quickly. Doesn't limit movement or arm rotation during exercises.

This product was purchased for my boyfriend who dislocated his shoulder while in the hospital after suffering a massive stroke. His left arm was paralyzed and basically just hanging. I would definitely recommend using this product immediately for someone who has suffered a stroke or arm paralysis even before their shoulder is dislocated unless their doctor advises otherwise. I believe it would have, at minimum, prevented the severity of his shoulder injury. None of the medical professionals recommended purchasing a support product like this but when they saw him wearing it to therapy said that it was great that he had it. I think it would have been great if they had recommended it to begin with.

I train Dobermans, and needless to say, over the years all the pulling from these dogs has taken a toll on my rotator cuffs. This brace has really helped. I wore it for a couple of days and everything has stopped hurting. I'm sure I will do something to bring back the pain, but this really helped immediately. My only complaint is that it is so bulky and hard to wear under clothes, and I know it will be way too hot to wear this summer in the Mississippi heat. I would highly recommend it.

I purchased this brace for my husband, who has a problem with his shoulder as a professional driver. The quality of the brace is good and I can definitely say that it works well. After one week wearing it my husband got rid of the pain in his shoulder. He keeps wearing it during his day, saying that he feels more secure with it. Thank you very much.

10X better than I expected. Many, many possible adjustments. This has helped a shoulder injury immensely. Don't take this wrong, but this brace somewhat limits rotation. The limit is what I needed to keep from antagonizing the injury. You can make this as loose or tight as your want, including the sleeve part.

I use this to help me be more active even with residual shoulder pain following a torn AC ligament. I gave it 4 stars because it doesn't seem to fit the way it should. If I put the strap above my breast, the shoulder portion sticks up. I have to put it below my breast to hold that down to get the full support.

I tore my rotator cuff and have been in a lot of pain. This brace fits very well and I wear it all night. It is the only way I am able to get some sleep.

This is a comfortable solution to a shoulder brace. I am a builder of many things and use my upper body all day long. I have worked in the brace for several weeks now and it has helped my range and mobility. It also works great for when I ice the shoulder at night. Thanks for making a great product.

I have rotator cuff problems due to a dislocated shoulder years ago. I like to lift weights in my older years. I was having shoulder trouble and couldn't do dumbell curls and had trouble with bench presses. This item has allowed me to do both. And my shoulder is getting better as well. Great product!

I was able to use my arm while the brace supported my shoulder. I believe it really helped me to start to recover more quickly. I'm a small person and I was able to adjust it down to my size. Very pleased and would recommend it.

Was having a significant amount of shoulder and arm pain, guessing it is from rotator cuff and AC Joint. I am a 58 yo male. I ordered 2 of these to try. I put it on and adjusted per the instructions. The pain subsided and I have acceptable range of motion without it hurting. Wearing it allows me to work outside with mowers and chain saws, etc. within reason. If you are (like me) a bit more "fluffy" than the models in the pictures, it does rub a bit at the neck and where the sleeve adjustments are. I wear it over a tee shirt and it helps. I bought two so I could have one on while the other is in the laundry. Vive health did a great job of getting the product to me as promised, and followed up. Thanks!

I injured myself a couple of weeks ago playing baseball. I may pulled on a muscle or a tendon in my shoulder. It seems to be getting better, but still uncomfortable when i raise my hand over my head. I ordered this brace, finally, and i put it on according to the directions that were given. I have to admit it fits me really well; it is adjustable. It provides this pinpoint pressure and thus helps alleviate tension and discomfort. I wear it throughout the day without any issues. And you can also fit some ice or a warm pad under it for placement. Anyway, I hope my information was helpful to you. Thank you.

I am a fitness loving mom and recently injured my shoulder. I researched all the braces on the Net and this one seemed best to suit my needs. It's not too bulky and I feel like I can wear it comfortably under normal clothes. It also helps me maintain proper range of motion which is really important t for my active lifestyle. I'd recommend this is you're injuredor just need a little extra support In your shoulder area.

I have a rotator cuff injury due to sports and this has been very helpful. Unlike another comment, I found this very comfortable for females. I also think it is extremely well constructed and durable for everyday use.

This is an awesome product! My mother loved and even asked me to purchase her another. It's a great support for her shoulder and it helps relieve most of her pain. I would highly recommend this brace to a friend.

I was in a car accident and was suffering from my neck to my wrist. It was very painful and most of the pain was emminnating from my shoulder. With heating pad at night and this brace during the day, my pain has almost gone away. I can function again with the brace protecting me from over extending my shoulder. Very grateful.

I received comfort almost immediately with this brace. One of the benefits of this brace is that I can add hot/cold packs as needed.

This brace is amazing, and so is the company. I put the shoulder brace on as soon as it arrived. I could feel a difference immediately. I wore it constantly for the first 24 hours. I then took it off and still had relief for about another 24 hours. My routine is now on a day off a day, unless I will bring doing an activity that I feel requires the extra support. The company is wonderful as well.

Quality fabric and stitching. Comfortable design and love all the adjustable points that allow you to find your perfect fit. Most important - my shoulder feels supported and that keeps it from tiring out too quickly. Doesn't limit movement or arm rotation during exercises. Would buy again! Recommend this product.

I purchased this brace for a severely torn rotator cuff. So far I am pleased. It took a while to adjust the brace, as I am a woman so it took some time to figure out where I should put the strap to give me the best support, above, below or between my breasts. I settled for above. It really has helped me being able to use my arm again. I think the company is super! They reply to your e-mails immediately. They are very helpful & supportive.

It comes without any instructions. Could be a better product with a bit of effort. You must adjust it yourself. Just my take as I really needed something that worked right out of the box and it didn't. It does support the shoulder well, but I'd like to have detailed instructions.

I did something terrible to my shoulder, but I'm not exactly sure what. It's been previously injured multiple times. I wanted to keep the weight of my arm off of it and this seemed like a more convenient style than the slings I've used in the past. I like that it fits under my clothing, and it does seem to provide *some support. The issues I have are as follows. 1) Although is disburses the weight some, it still keeps it all on the injured shoulder rather than on the other side. 2) It does not fit me. It seems to be more built for men. I am also smaller than average. I'm going to continue to use it in the hope that it relieves enough strain on my shoulder to heal a little quicker, but for me personally, I don't think this is the optimal choice for support.

Brand new brace! happy with the purchase

is so high quality!! Will buy more soon :)

Cool brace, quality matches the description.
Shipping & Returns

Shipping is free WORLDWIDE on most items with 30 days return policy
Share
View full details
Free Shipping

We ship free to over 200 countries & regions.

Hassle-Free Exchanges

Hassle-Free Exchanges with out 30 day refund policy